Top 10 country walks in New England explore deep woods, majestic cliffs, waterside views
Along the seashore or in tall mountains or deep woods, New England has many beautiful walks and hikes that take you deep into nature's beauty. See here the Top 10 country walks, where people of all fitness levels can explore and enjoy nature on a family vacation or getaway. Walking in New England countryside or towns or cities is a pleasure year-round, but we all know a very special time is when fall foliage lights up the place with brilliant colors.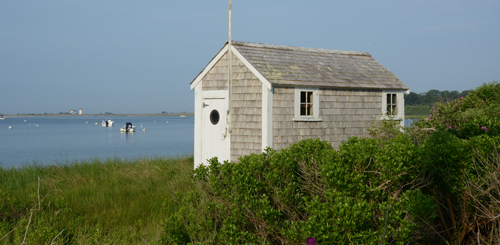 The magnificent Cape Cod National Seashore in Massachusetts stretches along the ocean side of Cape Cod and encompasses several beaches and towns. Within the national seashore are 40 miles of pristine sandy beach, marshes, ponds, woodlands, lighthouses, and cranberry bogs. The national seashore's website has descriptions of several inland and shoreline walks. including 
Province Lands trails
.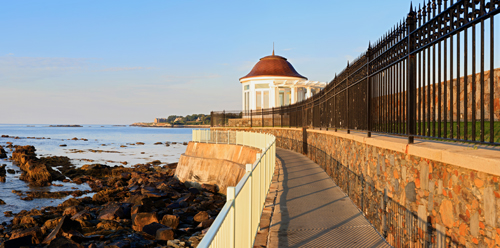 The Newport Cliff Walk is a 3.5-mile, elevated, winding path along Newport's shoreline with breathtaking views of Narragansett Bay and the rocky shores below. The walk runs from Bailey's Beach to First Beach, with many public access points. The walk skirts the edges of some of the city's mansions, including Beechwood, Rosecliff, Marble House, The Breakers, Ochre Court, and Rough Point. 401-845-5300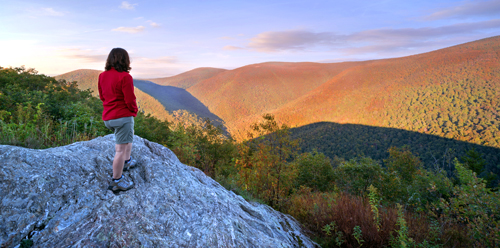 Created by geologic upheavals of the Taconic and Berkshire ranges, this 100-foot-high bedrock outcropping introduces visitors to a rugged and exotic landscape and splendid mountain vistas. The highest point, Hurlburt's Hill, rises 1,000 feet to a 20-acre upland field that offers panoramic views up the Housatonic River Valley. Open year-round, daily, sunrise to sunset. 413-229-8600
Breadloaf Mountain in the Litchfield region is at the southern edge of Housatonic Meadows State Park. The mountain offers walks from moderate to strenuous; you can hike Breadloaf alone or jump off to other trails and loops. At the peak of Breadloaf is the Appalachian Trail; it is not hard for people who are new to hiking. More-rugged hikes are also accessible from the main trails.
With the Lake Elmore beach at the base, this walk in a state park is perfect for a summer day and easy enough for children. From the parking area, the trail heads uphill on a fire road then turns right onto the Mount Elmore Trail. At 1.0 mile, the trail reaches a lookout, the site of the old fire watcher's cabin. The view to the east over Lake Elmore stretches to Mount Washington. 802-241-3655
Maine — Rachael Carson National Wildlife Refuge at 321 Port Road, Wells
Rachel Carson National Wildlife Refuge is located along 50 miles of coastline from Kittery to Cape Elizabeth. Major habitats include forested upland, barrier beach and dune, coastal meadows, tidal salt marsh, and the distinctive rocky coast. The Carson Trail, which starts at refuge headquarters at 321 Point Road in Wells, is a one-mile walk. Leashed dogs are allowed. Handicapped accessible. 207-646-9226
Best-known as a popular Christmas tree farm, the 1,400-acre Rock Estate is open to visitors year-round, offering structured and self-guided tours and programs. Originally a summer home, the Rocks Estate includes several buildings listed on the National Register of Historic Places along with a maintained trails system that includes short, easy strolls or longer hikes. 603-444-6228 
Trail map.
Contact Editor Mary Lhowe to learn about New England travel and to post New England events.