Connecticut fall foliage drives in 2018 wander towns, vineyards, colorful vistas
Connecticut — an easy day's drive from New York City — shows its brightest colors in October. Best places to visit are the wooded areas of the state, like Litchfield, and the eastern Mystic region. All these places have delightful small towns and gorgeous scenic drives.
The Connecticut Wine Trail welcomes guests to wineries and vineyards that host harvest season events and tastings in fall 2018. The capital city of Hartford has a beautiful city park, Bushnell Park, and the larger and more rugged East Rock Park.
Getting Ready
---
Litchfield/Northwest Region — New Milford, Kent, and Mount Tom State Park drive loop — 46 miles
This drive will take travelers past the Housatonic River, famous for fly fishing and white water rafting; near two covered bridges; and through Kent and its many art galleries, historic homes and churches; Washington and its Institute for Native American Studies, and Mount Tom State Park. The Appalachian Trail passes through this area, and opportunities for day hikes are plentiful.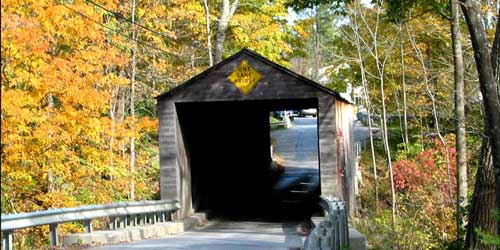 Points of Interest:
Two covered bridges in the area are Bull's Bridge in Kent and Kent Falls Bridge in Kent Falls State Park. Bull's Bridge is a historic bridge, built in 1842; the Kent Falls bridge is a 1970s-era re-creation of a historic structure.
Morrison Gallery on Old Barn Road in Kent. See interesting changing exhibits of modern art, photography, sculpture and more. Also, check out Heron American Craft Gallery on Main Street in Kent. Great for gift buying: art, household decor, ceramics, clothing and jewelry, greeting cards.
Iron Mountain Preserve, Treasure Hill Road, Kent. Stop for a 1.5-mile walk on a loop trail through varied forest and woodlands. Your host is the Nature Conservancy.
The House of Books on Main Street in Kent is packed with high-quality literature; a whole rooms of children's books; cards, music and gifts. The town is on the Appalachian Trail and the store specializes in maps, trail guides, books on local lore and the out-of-doors.
---
Torrington to Norfolk Through People's State Forest — 58 miles
This drive passes through many lovely small towns and the adjacent Peoples State Forest and American Legion State Forest. Also near this drive is Lake McDonough, a scenic, unspoiled public recreation area.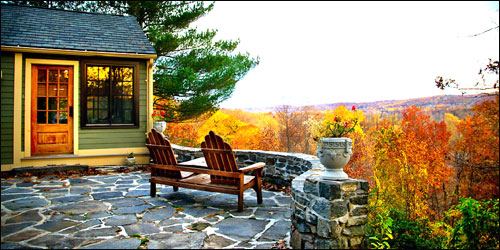 Points of Interest:
---
Waterbury Area Loop — 42 miles
This loop is good for people with limited time to spend. With only short stops for viewing the scenery, the trip should take less than two hours. Black Rock Park offers excellent hiking, scenic views, and Indian legends. People with more time to spend should visit Waterbury's Mattatuck Museum, with exhibits chronicling the industrial and cultural history of the Naugatuck Valley.
Nearby Points of Interest:
The Last Green Valley is the 35-town National Heritage Corridor in northeastern Connecticut. It is a pristine and quiet spot of pretty town greens, country roads, wildlife preserves, unusual farms (alpaca, bison), wooded walking paths, calm waterways for paddling, history museums, towns with galleries and good food. Star gazing is popular; the last Green Valley is one of the few places on the Eastern Seaboard with little nighttime light interference.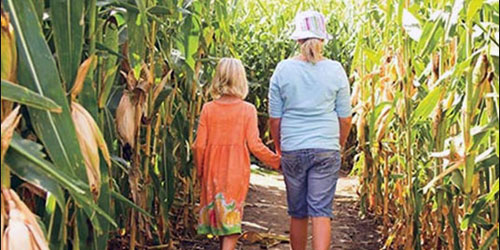 Nearby Points of Interest:
Dining and Shopping:
Woodstock is stocked with shopping that you won't find in a big-box store. Pop in at any of these spots: Coco's Cottage (women's clothes and accessories, gifts for baby); Garden Gate Florist Gift Shop (antiques, jewelry, plants); Mrs. Bridges Pantry (tea supplies, food from the UK, gardening items); Periwinkles at Garden Gate (gift shop); Scranton's Shops (antiques in a historic blacksmith shop).
Sweet Peas Fine Foods; Farm Market on Providence Road in the Baker's Dozen complex in Brooklyn serves upscale take-out food, prepared meals, salad bar, quick cuisine, Venda Raviloli products, bakery goods, cheese. Perfect for a healthy and delicious picnic.
The Stomping Ground on Main Street in Putnam is a friendly local hangout with good lunches and dinner, live music nightly except Mondays and Tuesdays, and open mic nights.
Golden Lamb Buttery in Brooklyn is for special occasions or maybe just a feeling that it's time to splurge, Serving lunch, and dinner on weekends. Enjoy cocktails on the porch overlooking a pastoral scene and a wonderfully prepared meal.
---
Mystic and Old Mystic Via River Road — 6 miles
This drive along the tidal Mystic River, with its marsh meadows and waterfowl, is beautiful all year. From River Road, views of Mystic Seaport on the opposite bank of the river convey a shipbuilding community in the early 1800s. Downtown Mystic is a delightful place to explore.
Nearby Points of Interest:
Mystic Seaport, 75 Greenmanville Avenue, Mystic (860-572-5315). Marvelous living history museum and re-creates a 1830-period New England ship building village similar to historic towns of this area. Lots of season special events celebrating coastal New England history and culture. Great fun for adults and kids.
Mystic Aquarium and Institute for Exploration, 55 Coogan Blvd., Mystic (860-572-5955). Wonderful aquarium includes Beluga whale exhibit and Titanic exhibit developed with help by Dr. Robert Ballard, discoverer of the sunken ship.
---
Norwich-Woodstock Turnpike — 32 miles
This route runs from Canterbury to Woodstock in the northeastern part of Connecticut known as the Quiet Corner. About 190 pre-1855 homes survive along the highway, as well as historic churches and farms. The highway winds through the towns of Lisbon, Canterbury, Brooklyn, Pomfret, and Woodstock, an architectural feast surrounding a traditional town green.
Nearby Points of Interest:
Creamery Brook Bison, Brooklyn (860-779-0837). How often can you meet a bison? Farm welcomes visitors for special seasonal events and fun. Great for kids and families.
Connecticut Audubon Society Center, Pomfret (860-928-4948). Spend some time outdoors with Audubon — it wants you to meet the wilderness.

---

North Stonington to Sterling on Route 49 — 22 miles
Along this state scenic highway, travelers can see dramatic vistas from large hilltop farms. Three of those farms have been used by the same families continuously for almost 300 years. This route runs for 18 miles north to the Sterling Hill National Register Historic district. Offering views of fields and farms, it's a great way for visitors to nearby Mystic in southeastern Connecticut and to extend their trip to northeastern Connecticut.
Nearby Points of Interest:
Pachaug State Forest, Voluntown (860-376-4075). The Pachaug State Forest offers trails for hikers, snowmobilers, and horseback riders.
---
New Haven Region — Essex to Guilford CT Shoreline loop drive — 35 miles
This shoreline loop drive moves through the beautiful towns of Essex, Old Saybrook, Guilford, and Deep River, with stops at a marsh wildlife area and an ocean side state park. 35 miles.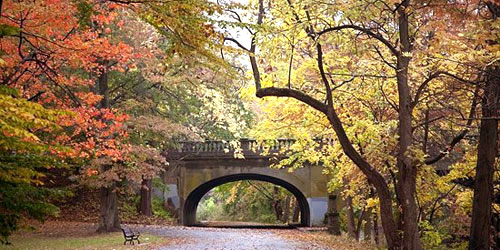 Nearby Points of Interest:
Essex Steam Train and Riverboat, One Railroad Avenue, Essex. Enjoy a lazy ride up the lower Connecticut River in the lavish, antique railroad cars, then shift to a Mississippi-style river boat to complete your journey on the water.
Hammonasset Beach State Park, 1288 Boston Post Road, Madison. Connecticut's largest shoreline park with lots of smooth beach for swimming and sunning, along with a fun boardwalk.
Bishop's Orchards, 1355 Boston Post Road, Guilford. Fun place to get out of the car, stretch, buy apples and pumpkins and autumn treats. Great for kids and families.
Side Trips:
On the way from Essex to Old Saybrook, you can take a short side trip eastward on Route 95 across the Connecticut River to Old Lymeand visit the Florence Griswold Museum at 96 Lyme Street. This marvelous house operated in the early 1900s as a boarding house for a summer colony of New York artists, and it's a hot spot for American Impressionism. You will see lots of art and beautiful gardens.
When you reach Hammonasset Beach State Park, swing northward on Route 450 for a stop in nearby Madison. There you will find a great bookstore, R.J. Julia Booksellers. Excellent book selection, gifts, kids activities, and special events.
Dining:
Penny Lane Pub at 150 Main Street in Old Saybrook is an English style pub and restaurant with a friendly, neighborhood atmosphere. Located on the state's Signature Cocktail Trail.
Bufalina at 1070 Boston Post Road in Guilford serves authentic Neapolitan pizza from a wood fired brick oven. Located on the state's Pizza Trail.
Chamard Vineyards at115 Cow Hill Road in Clinton has a very French-inspired bistro that serves lunch and dinner. Live music is presented on Friday through Saturday in the tasting room. Located on the state's Wine Trail.
The Wharf Restaurant at Madison Beach Hotel at 94 West Wharf Road in Madison serves fresh and locally sourced foods that spotlight the flavors of the Atlantic Northeast and New England. Eat in the dining room or on the year-round porch.
---
Shoreline and Country Roads of Guilford, Durham, Madison CT — 57 miles
This drive takes you from the Long Island Sound shore and inland among salt marshes, classic town greens, sunflowers and a fine farm stand. If you're coming from the New York/ New Haven area, take exit 53 off I-95 north. If you are coming from New York City, consider taking the Hutchinson River Parkway to the scenic Merritt Parkway (Route 15) as a substitute for I-95.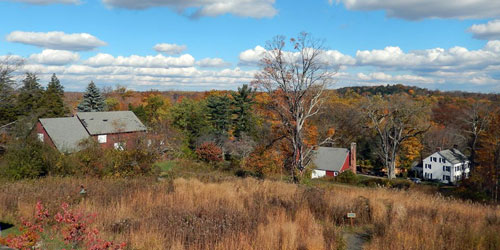 ---
Hartford/Central Region — Talcott Mountain State Park and Heublein Tower — 7 miles
Talcott Mountin State Park is home to a wide variety of plants and animals. Distinct geographical formations date back to ancient times. It also is home to Gilbert Heublien's unique summer estate, dating to 1914, which is open to the public.
Nearby Points of Interest:
Talcott Mountain State Park, 57 Gun Mill Road, Bloomfield (860-242-1158)
Penwood State Park, 57 Gun Mill Road, Bloomfield (860-242-1158)
Heublein Tower, Summit Ridge Drive, Bloomfield (860-242-1158). Gilbert Heublein was a German hotelier and restaurateur in Hartford and a developer of gourmet food. He built the Tower in 1914 as a summer vacation home for his family. The tower is open only in summer, but the property is accessible year-round for hiking and wildlife viewing.