Brighten your winter cookery and social life by browsing a winter farmers market for food, crafts, friends
In our home, at VisitNewEngland.com, winter weekends are a time of heavy cookery. We don't rely for our raw materials only on grocery stores, because many, many New England towns run indoor winter season farmers markets. You won't find beans picked from the plant that very morning from these local farmers and food makers. But you'll find lots to work with: locally grown produce, meats, baked goods, cheeses, jams, coffee, pickles, pet food, and much more. Some markets offer a bit of live music during market hours, on-site cafes, and activities for kids. Other offer services, like knife- and scissor sharpening. These are places to find good food and old-time sociability on a traditional local market day. Learn more at our
Top 30 Winter Framers Markets in New England page.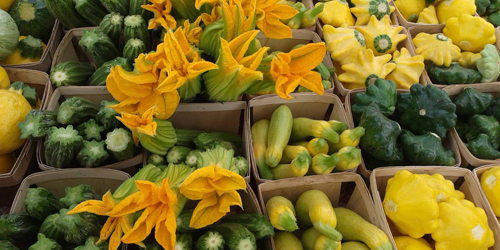 VFW Post, 530 Exchange Street in Middlebury, VT — Don't let the smaller size of this indoor market fool you – the cheery vendors sell an abundance of local favorites like apples, organic produce, and prepared food.
Dates and Times: All Saturdays, December through April; 9:30 a.m.-1 p.m.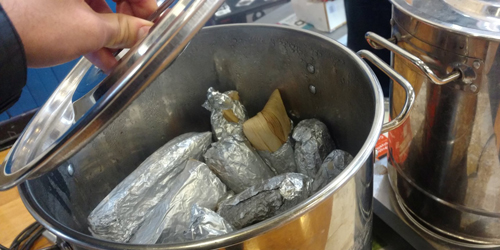 Cambridge Community Center, 5 Callender Street in Cambridge, MA — In the heart of the city, shop for foods grown and made in New England: fruits and veggies, meat, fish, cheese, breads, preserves and more. Take in some live music and local arts; crafts activities and special events. Dates and Hours: Early January to early April; Saturdays; 10 a.m. – 2 p.m.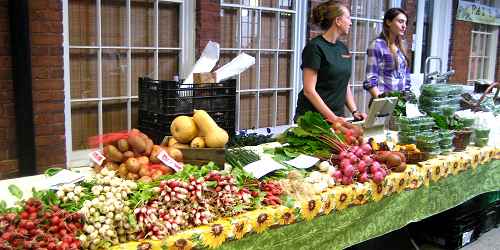 Hope Artiste Village, 1005 Main Street in Pawtucket, RI — This market is located inside a historic former mill building that is being restored and used a bit at a time by designers, artists, a bar, dance studios, and a violin maker. Browse a wide range of food products, including shellfish straight from Maine, soaps and skin care, and cool extras like knife sharpening and recycling. Worth a trip to just brighten up a winter day. Features that await you a pickle contest, Wednesday-night craft demonstrations, and a holiday beer and wine tasting party! Dates & Hours: early November to late April; Saturdays; 9 a.m.-1 p.m.
Tracy Hall, 300 Main Street in Norwich, VT —
 This indoor winter market is famous with the locals for bringing the community a reliable, one-stop, fresh grocery spot. Enjoy farmers' market staples like dairy, poultry, honey, maple syrup, pies, and wool, along with local arts and crafts like photography, pottery, jewelry, woven rugs, hand knit scarves, and countless more fun items! Dates and Times: November-April, selected Saturdays (consult website), 9 a.m.-1 p.m.
Courthouse Center for the Arts, 3481 Kingstown Road (Route 138) in West Kingstown, RI — Join the locals at Rhode Island's oldest farmers market and treat the whole family to goodies like calzones, spinach pies, herbs, hand creams, decorations, Christmas wreaths, beeswax candles, wool blankets, handmade pottery, birdhouses, dog biscuits, and – our favorite — fresh popped kettle corn or a hot cup of coffee while you stroll and shop. Dates and Times: November-April; Saturdays; 9 a.m. – 1 p.m.;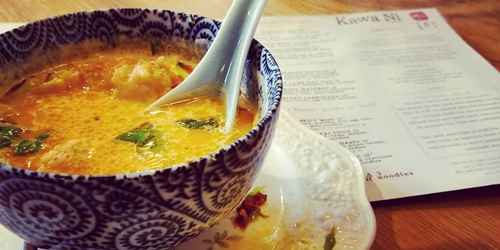 Gilbertie's Herb Garden, 7 Sylvan Lane in Westport, CT — Peruse local seasonal produce, including hydroponically grown greens and green juice, artisan breads and cheeses, warm coffee and tea, meat, dairy items, and much more at this delicious community gathering. Dates and Times: mid-November to mid-March; Saturdays; 10 a.m.-2 p.m.
Contact Editor Mary Lhowe to learn about New England travel and to post New England events.