For your next New England summer adventure — discover the beauty of the New Hampshire Lakes Region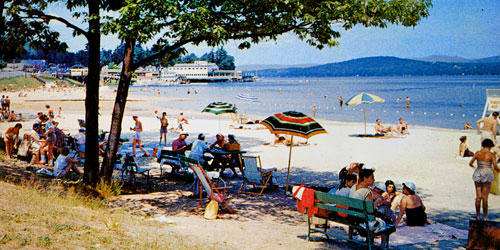 The Beach With Plenty of Off-Sand Entertainment
Weirs Beach
on vast Lake Winnipesaukee is an old-time beach for families and people who love a boardwalk-like atmosphere. A vacation destination for families over multiple generations, the beach is edged with play areas and picnic sites, and there's a genuine wood boardwalk with arcades, fun and junky summer food, mini golf, go carts, music and fireworks. Perfect for a youthful family with kids who love to go go go.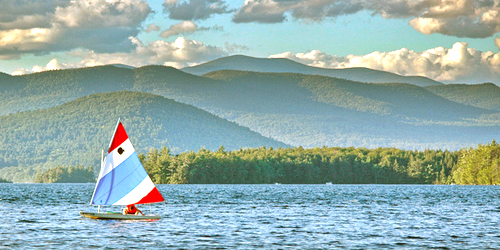 Boating Fun on Squam
Squam Lake, northwest of Lake Winnipesaukee, is a pristine place of aqua water and forested hills rising from the shoreline. And you can get out on those waters, even if you don't own a boat. 
Experience Squam
on Route 3 in 
Holderness, 
offers private boat cruises suited to your group's preferences. Cruises with Experience Squam may decide to blast through the lake or to put-put quietly, to drop anchor in the little coves, to meet the water head-on at Jumping Rock, walk about Church Island or where "On Golden Pond" was filmed.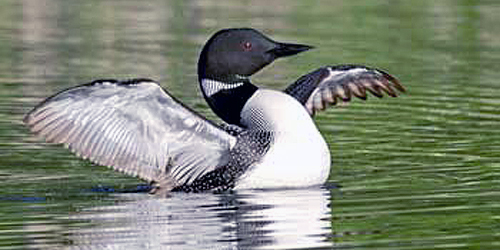 The Loons, They Are Enchanting
Distinctive-looking loons, and their haunting calls at early morning and evening, are a feature of life on the New Hampshire lakes that local people and visitors treasure. Feel free to visit the
Loon Center 
at 183 Lees Mill Road in 
Moultonborough
 to learn about these bewitching birds. Shop at The Loon's Feather Gift Shop or walk the nature trails in the large, adjoining nature sanctuary on Lake Winnipesaukee. Open from July 1 to Columbus Day and shorter hours during off season.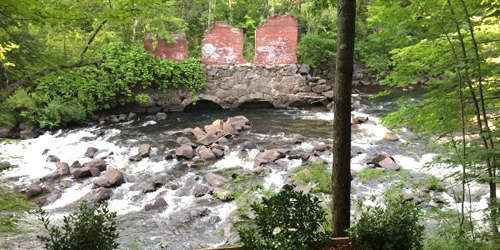 Biking and Walking Along a River of Industrial History
The 
Winnipesaukee River Trail 
welcome people who live to walk or bicycle through authentic history.  This five -mile trail, close to the center of the towns of Northfield and Franklin, connects these communities along with Tilton along the Winnipesaukee River. Trail travelers can see mill ruins and remaining portions of dams — all that's left of five mills that worked on this river in the 19th century. Access points are at Central Street in Franklin; Cross Mill Road in Northfield; Old Surrette Battery property in Northfield; 142 East Main Street 3 in Tilton; Route 140 at Railroad right-of-way.  
Trail brochure.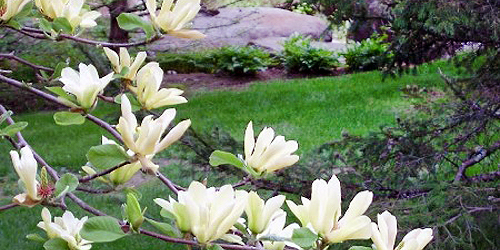 Tarbin Gardens: Meet the Flowers!
Tarbin Gardens, at 321 Salisbury Road in West Franklin started as English-style gardens of a family of horticulturists. Over time, they have become so popular that they were opened to the public. They are are gift of flowering plants in a curated setting. Come walk among trees, shrubs and perennials; walk the abundant butterflies, ; take pictures if you wish; sit with an easel and paint.  English cream tea is served from June through September in the patio. The gardens are open May through September. You are welcome to bring a picnic.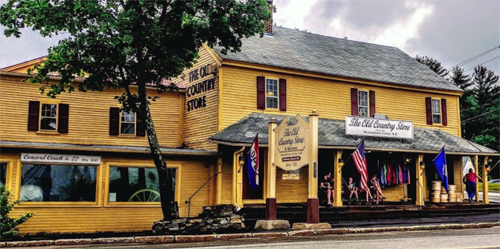 The Old Country Store Has Seen Many Changes
You can buy fun vacation treats and memorabilia of all kinds at the 
Old Country Store 
on Whittier Hwy. in 
Moultonborough
. Built in 1781 on land given to a local soldier after the Revolutionary War. The place also has served as a library and a post office and a town meeting hall. Today, take some cash with you and come home with fragrant candles, toys, kitchenware, and penny candy, with a pickle barrel, maple syrup, and a good dose of John Deere merchandise. Fun for your children.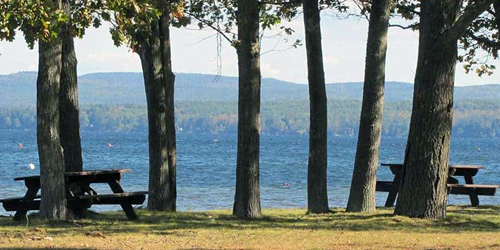 Yes, Take the Byway By the Lakes
To take in great gulps of lake scenery, turn your steering wheel toward the 
Lakes region scenic driving tours.
Several self-guided driving and walking tours are described by the experts at 
the Lakes region tourism association
. Scenic drives take you along Lake Winnipesaukee and around the region, presenting grand views, lakeside villages and places to dine and shop. Explore the very vacation-loving towns of Alton, Gilford, Weirs Beach, Meredith, Holderness, Center Harbor and Moultonborough. If you make plans in advance you can board a cruise the lake on the M/S Mount Washington out of the town of Weirs Beach. [ photo: NH Dept.of Resources and Economic Development ]
Explore Squam by Pontoon Boat
Squam Lakes Natural Science Center hosts informative 
cruises
 of pristine Squam Lake. Learn about the lake's plants and animals, and the people who have lived in this region for more than 5,000 years. See scenes from the movie "On Golden Pond." Watch for loons, bald eagles, and other wildlife. Cruises are on canopied pontoon boats, leaving from the dock on Route 3 at the bridge in 
Holderness
. Binoculars are available . Reservations are recommended. You can cruise every day from mid-May 17 to mid-October.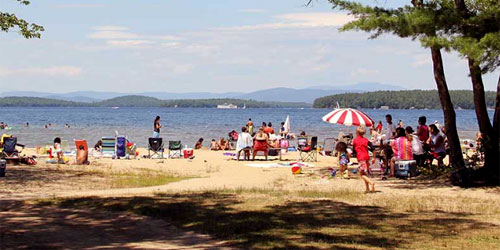 Stretch Out on the Sand at Picturesque Ellacoya
For a day trip to the beach or for overnight camping, local people recommend 
Ellacoya State Park
at 280 Scenic Drive in 
Gilford
 on Lake Winnipesaukee. The long sandy beach, with views of the Sandwich and Ossipee mountains, is just right for family swimming and picnicking. There is a bathhouse, a souvenir store, and a small boat launch. The campgrounds offer RV hookups and showers.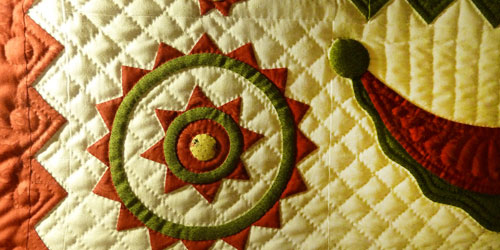 Shopping Is Also Beautiful, at the Lakes
The Lakes Region of New Hampshire is a place of great natural beauty year-round. For people who want to or need to 
shop 
, opportunities are abundant. Visitors find excellent (and sales-tax-free) shopping at places like Tanger Outlets in Tilton, with 50 designer outlet stores, and, at the other end of the spectrum, antique shops in almost every town. A vast quilting store is Keepsake Quilting in Center Harbor, with its adjacent knitting supply store, Patternworks. Mill Falls Marketplace in Meredith has a candy store, clothing stores, and a bookstore in a restored mill. The Kellerhaus in Weirs Beach still makes ribbon candy and candy canes onsite.