In the foothills of the Berkshires, surrounded by baby mountain ridges and thick forest, the Connecticut River winds its way south through Massachusetts toward the Long Island Sound. This region is known as the Pioneer Valley, spanning the beautiful counties of Hampden, Hampshire, and Franklin. Pioneer Valley was christened by travel writers in the 1920s and 30s who sought to advertise the area to the first generation of road trippers.
Along the river in Franklin County, which comprises the upper Pioneer Valley, sit the towns of Deerfield, Greenfield, Shelburne Falls and Montague. These little towns are charming, cheerful, country-style. Filled with warm locals, fascinating history, and yummy bites to eat, they make for a wonderful day trip destination.
Eat
Breakfast: Shelburne Falls Coffee Roasters. These guys have some of the best bagel sandwiches in New England. We loved the Greenfield, which came with egg, mozzarella, bacon, sundried-tomato-jalapeno cream cheese, and tomato. They have a few locations around Massachusetts, including one in Greenfield and one in Shelburne Falls. Be sure to try their birthday cake coffee and chai lattes as well.
Lunch: Great Falls Harvest. In the town of Turner Falls – technically part of Montague – is Great Falls Harvest, an American restaurant with heavy emphasis on fresh, local, organic ingredients. They do dinner, too, but the lunch and brunch menus are robust, so it simply depends on what time you make it up there. Think sandwiches, salads, frittatas, and burritos made with locally-sourced grub.
Dinner: Gianni Fig's Ristorante. After a long day of hiking and exploring (or right before a strenuous hike the following day), you're going to want to get cozy with a huge bowl of pasta. Gianni Fig's scrumptious menu is composed of classic Italian appetizers and dozens of pasta and risotto selections, along with meat entrees, house specials, vegetarian options, and, importantly, authentic Italian desserts.
Snack: Hearty Eats. This is a plant based (vegan-, vegetarian-, and pescatarian-friendly), organic restaurant in Shelburne Falls. The food is fast and affordable; the menu includes fare such as fish tacos, dal, falafel, bowls, and drinks, both hot and iced.
Do
Take a class at Vävstuga Weaving Studio. Depending on how long you plan to be in the area, you can take one-day classes or longer courses that last up to a full week. This weaving studio focuses on Swedish weaving, loom and all.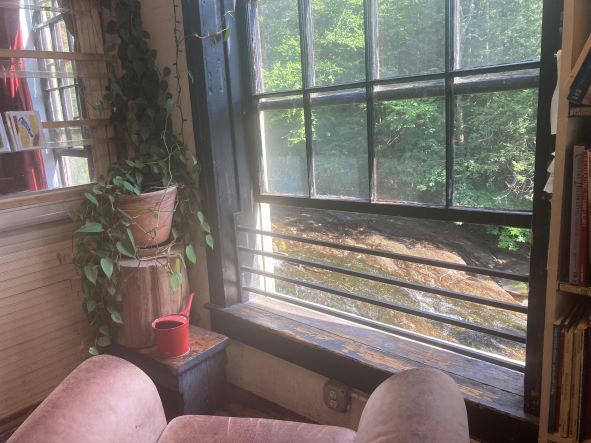 Shop and study at the Montague Book Mill. One of the cutest book stores in New England, the Book Mill occupies the 1842 Alvah Stone Mill. It houses not only a bookstore, but also a fine dining restaurant, a café, a music store, and an art gallery. Peruse over 40,000 used titles, then curl up in one of the chairs facing the Sawmill River and listen to the burbling water while you read.
Browse for antiques. Antique furniture shops dominate the roadside along Route 5. Stop at one, or stop at a few. Whether you're looking for something specific (the experts at these shops can definitely help you find what you're looking for, or point you in the right direction) or just browsing, it will be a fascinating and fun experience.
Hike the copious trails. There are so many trails, parks, and protected areas in the Pioneer Valley that you'll practically never run out. Hike to the tops of mountain ridges, along lazy riverbanks, and down the famous Mohawk Trail, which begins in Greenfield.
See
Historic Deerfield. This preserved 18th century colonial village offers a full day's worth of tours and history. Some of the houses offer guided tours on the hour; others are self-guided, but you have less access to the rooms. There are also museums, galleries, a gift shop, an inn, and a tavern.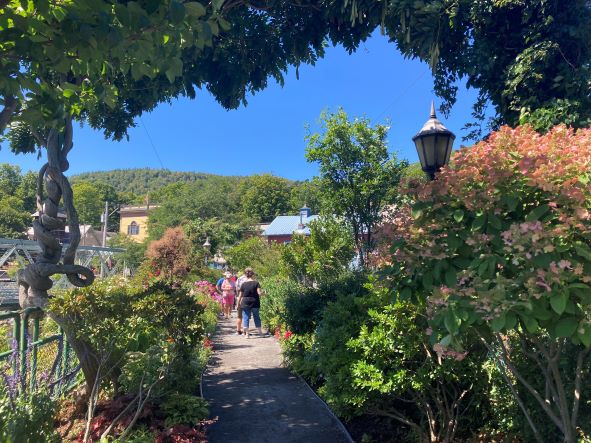 The Bridge of Flowers. "It's just a bridge," you might be thinking, but don't be fooled: if you visit sometime during April through October, when the bridge is open to foot traffic, you cannot miss the opportunity to explore it. It's impeccably well-maintained, and the flowers are bursting with color and life. It's beautiful, riotous, sublime.
Magic Wings Butterfly Conservatory. If you didn't get your fill of flowers on the Bridge of Flowers, or if you happen to be visiting during colder months, stop by the Magic Wings Butterfly Conservatory in South Deerfield. Wander this 8000 square-foot tropical conservatory and view almost 4000 free-flying tropical and native butterflies from all around the world. No promises, but one might just land on you!