One of the best ways to take in New England's gorgeous autumn foliage is by gondola, or ski lift, or sky ride. This activity is great for a few reasons: the aerial view, the fact that you don't have to walk or drive, and, because they are often hosted at ski resorts, the foliage in these areas (mountainous, rural) tends to be particularly dense and colorful.
Here are a few of our favorite sky rides.
The K-1 Gondola – Vermont
Through October 15
Take a gondola to the peak of the highest mountain in Vermont that offers chairlift services: Mount Killington in Shelburne, the second-tallest mountain in the state. On a clear day, you can see five states and Canada from its summit. Each gondola sits eight people. Tickets.
White Mountain Express Gondola – New Hampshire
Through October 16
This is the longest gondola sky ride in New Hampshire. It takes you in a four-person car 1.3 miles up to the summit of Loon Peak. As you ascend, see a patchwork quilt of colorful foliage spreading up the sides of nearby peaks. Tickets.
Cannon Mountain Aerial Tramway – New Hampshire
Through October 16
This ride is more of a train car than a gondola – it is New Hampshire's only aerial tramway and the first in North America. In fewer than ten minutes, ascend to the 4,080-foot summit of Cannon Mountain, where you'll be treated to – on a clear day – views of New Hampshire, Maine, Vermont, New York and Canada. Tickets.
Mount Snow Scenic Chairlift Ride – Vermont
Through October 10
Ride the Bluebird Express chairlift to the summit of Mount Snow in Dover, Vermont. Expect stunning, colorful views of Somerset Reservoir, Mount Monadnock, and, on a clear day, Mount Washington. Tickets.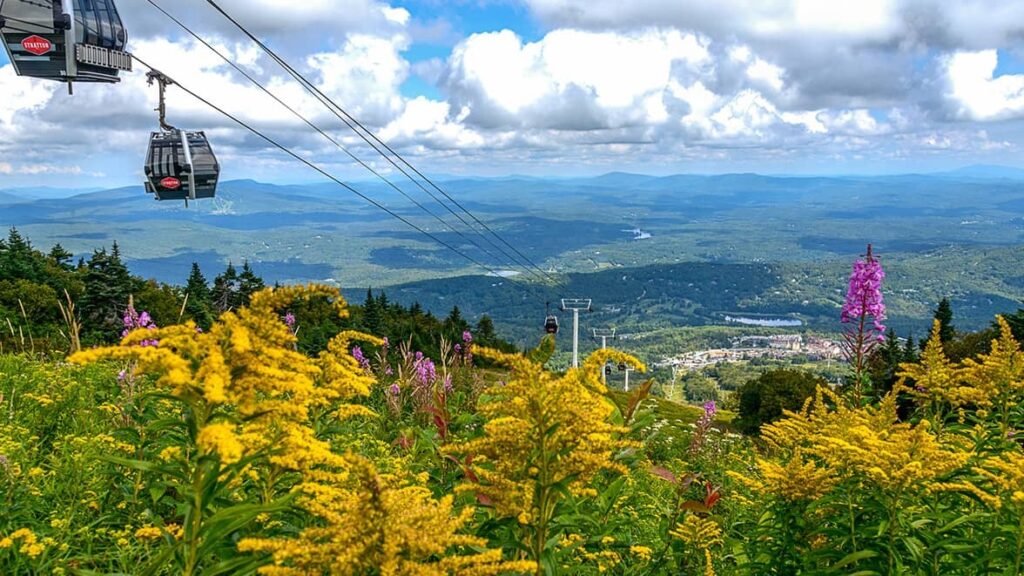 Stratton Mountain Scenic Lift Rides – Vermont
Through October 10
Take a gondola to the top of Stratton Mountain, the highest peak in Southern Vermont. On clear days you can see peaks in the White Mountains, Adirondacks, Berkshires and Green Mountain ranges. Tickets.